LearnDesk Live Classes enables you to run classes that occur on a one-time basis or on a recurring basis or on a fixed basis. In Live Classes, you are required to define and publish an event to ensure students can book the class.
One-time

scheduled classes help to get new students to try your existing class. For example, you want to offer a free trial class to a new student that can occur on April 1, 9-10 am. (Read article Events - One-time)
Recurring-schedule classes help to organize your ongoing classes where you teach at a set schedule each week or month. An example may be your guitar class that occurs every Friday, 6-7 pm. (Read article Events - Recurring)
Fixed schedule classes help to also organize seminars, talks, tutorials, speaker events, or summits that happen once, on a set schedule. For example, a summer camp that happens on fixed dates or a boot camp that you are organizing as per a fixed schedule. (Read article Events - Fixed)
This article will provide information on:
How to Define an Event
Ensure that you are logged in to your LearnDesk Account (https://www.learndesk.us), as shown below:


Under the 'Teach' menu, navigate to the 'Live' section as shown below: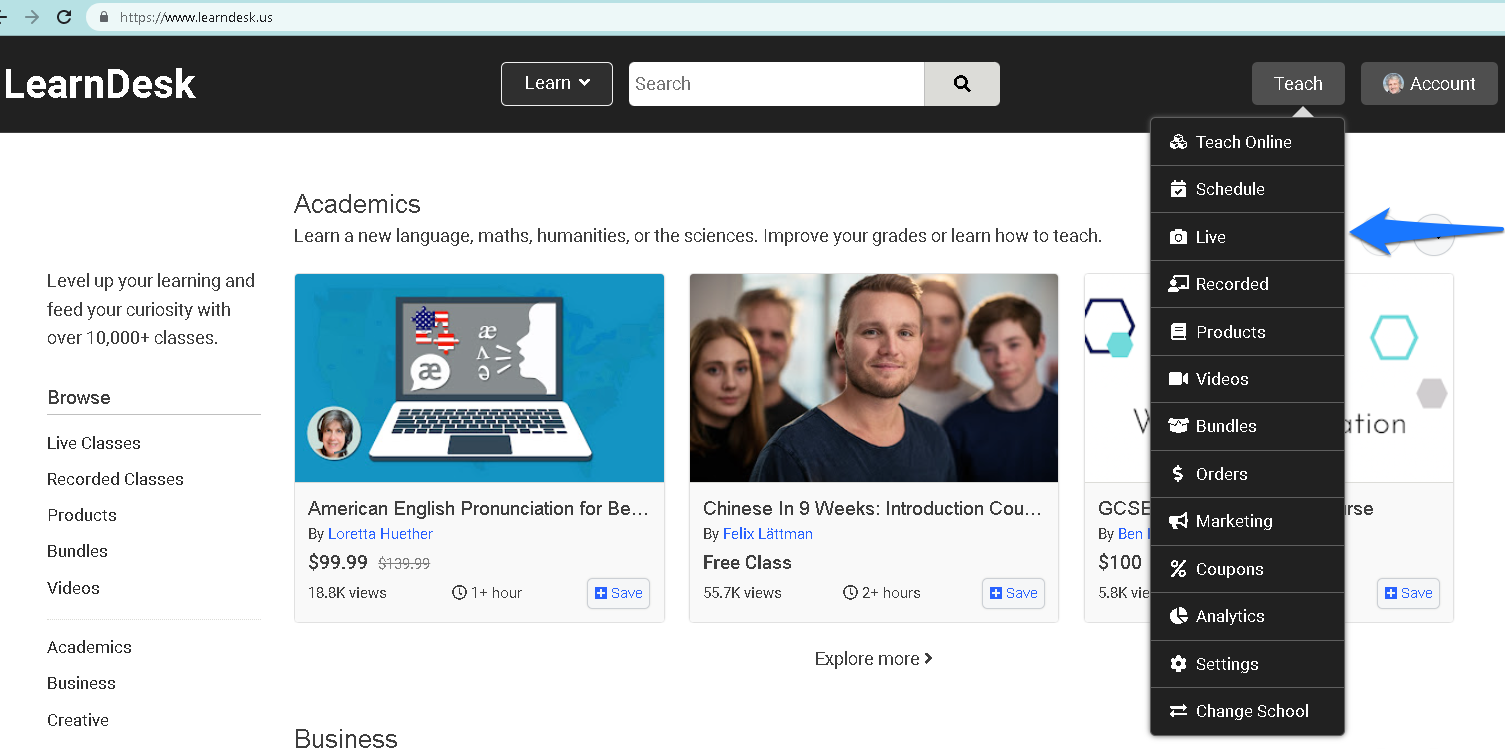 You will be directed to a page that will display the list of all your Live Classes (Saved, Approved), as shown below:


Click on the name of the Live Class that is to be edited. For instance, we have selected 'Hey Kids, Let's Code!', as shown below:


You will be directed to the 'Overview' tab, click on the 'Events' tab, as shown below:



Ensure that information is updated and saved as per the requirement of the class. The important fields are:
Location (required) - You can provide the location for the events of your class as multiple options, such as Phone, Address, and URL (eg. Zoom/Webex/GoToMeeting/Google Meet/Skype), as shown below:



Schedule (required) - this should be a date in the future. To know how to define the event for each live class type refer to these articles:
Events - Recurring
Events - One-time
Events - Fixed


Maximum Students (required) - You can fix the maximum number of students that can join the live class.



Check Conflicts - You make sure the box is checked to avoid clashes with other live classes.

How to Publish an Event
Teachers can self-publish Events for a Live class. After the event is defined, click on the Save and Publish buttons at the bottom of the screen to ensure the class schedule is updated and visible on the sales page of the class, as shown below. You can save using the keyboard combination CTRL+S on Windows and ⌘+S on Mac, as shown below: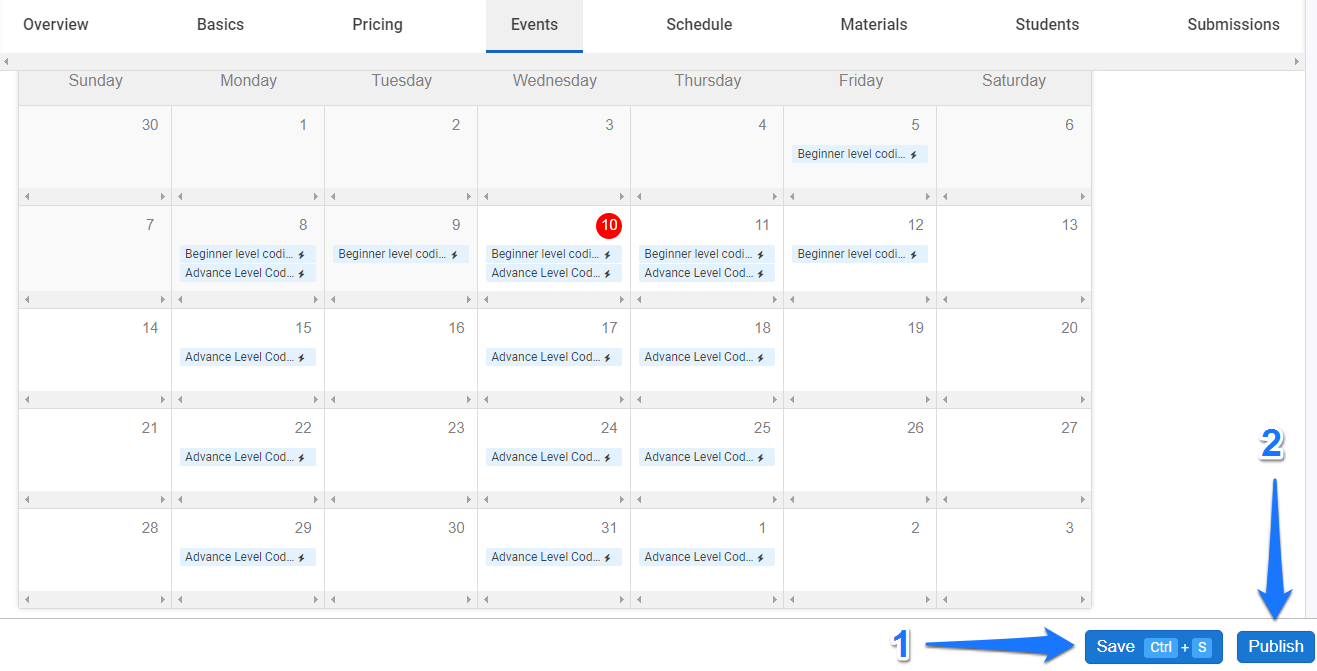 Event not available / Unable to book a Live Class
If an Event is not available (i.e. Event is not defined or Event is not published) for a Live Class, then a message will be displayed "No scheduled events are available for booking for this class." or "The events scheduled for this class has not been published." when a student will attempt to book the class, as shown below: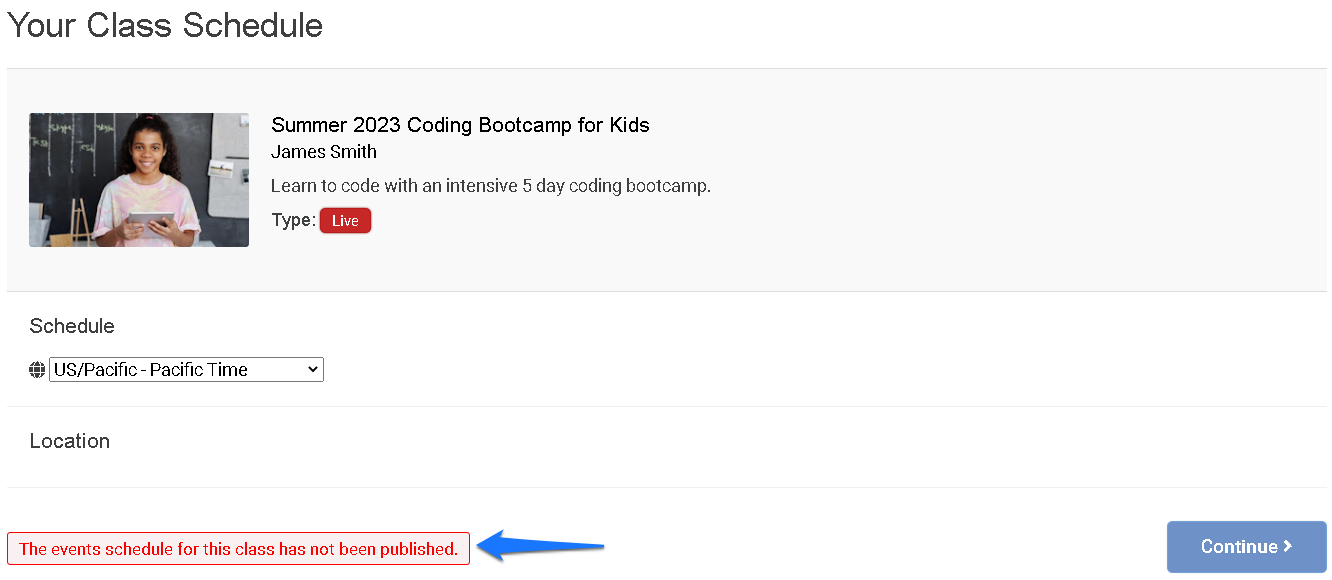 This may be due to one of the reasons: