LearnDesk software is used by teachers and students. As a teacher, to sell items (Live Class, Recorded Class, Product, Video, Bundle) or as a student to purchase items, an account is required. On LearnDesk, account creation is easy and intuitive.
Navigate to LearnDesk (https://www.learndesk.us), and view the 'Account' button as shown below: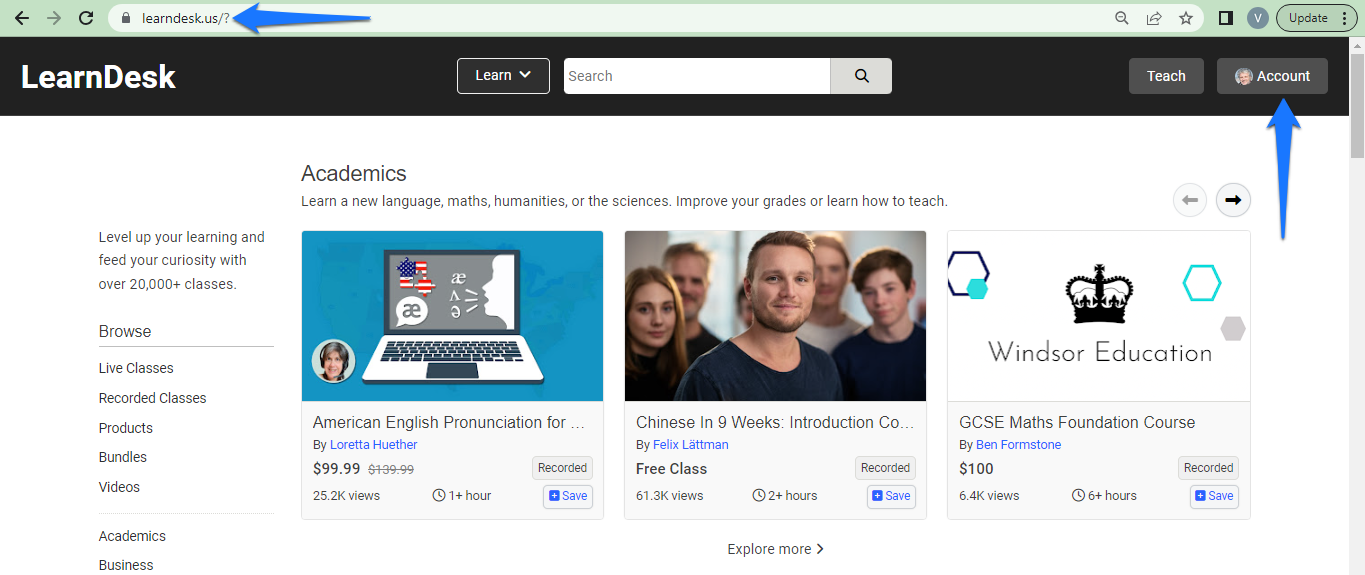 For a new user or for someone who is not logged in to their LearnDesk account, the "Account" button will reflect two options, as shown below:
Log In: For existing user to log in to their account.

Sign Up: For new user to sign-up. For information on sign-up, refer to the article How to sign up and log-in to LearnDesk?

A user, after logging in to LearnDesk account will see options under the "Account" button as shown below:


These options are:
Profile - user account profile (refer article Edit LearnDesk Account Profile).



Settings - account settings (refer article Learn Desk Account Settings).




My Schedule - Schedule of purchased Live Classes, as shown below. Three tabs - Upcoming, Completed and Cancelled. This includes important information for the class:




Date and Time

Location - Postal address, for in-person Live Class.

For online classes via tools such as Zoom, the Zoom link is available.

Availability - student may mark their availability to join the class. This may help the teacher to reschedule or provide an alternate schedule to the student.


Add to Calendar






My Purchases - items (Live Class, Recorded Class, Product, Video, Bundle) purchased by the account holder, as shown below:




My Classes - are categorized under three tabs:

Watching - search history of items.

Completed - list of items that the user has completed.

Saved - list of items saved by the user for reference or to revisit.




Invites - Invitations received from a teacher.



Notifications - notifications that the user will receive via email, based on the selected option.



Help - directs to LearnDesk Help Center (refer article How to access Help Documentation?).



Log out